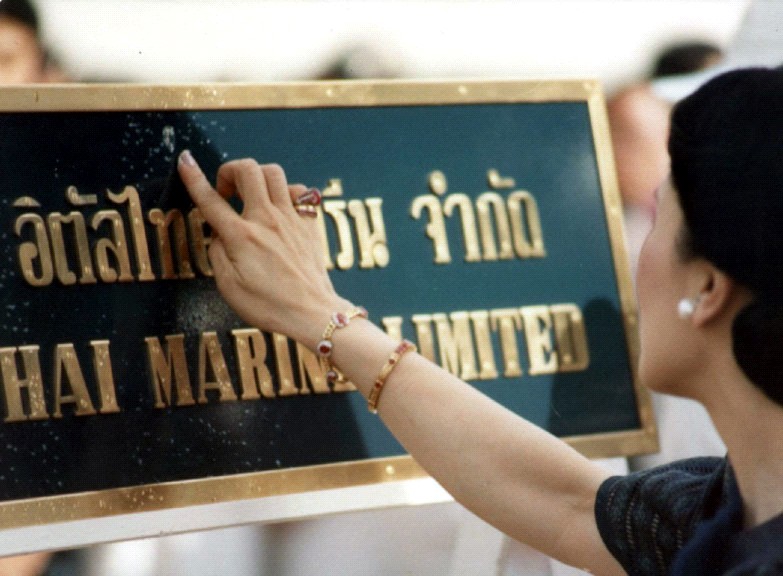 Italthai Marine Limited, a members of the Italthai Group of companies, was established on 22 September 1978 when the Italian-Thai Development Corporation and Italthai Holding Co.,Ltd. partnered with Oriental Marine and Laminates Co., Ltd. to create an organization to construct and repair small and medium size steel, fiberglass, and aluminium ships.

Over the years, the company has been renowned for its quality, competence, and cost-effectiveness, as it has won a number of large bids to build a wide array of naval and commercial vessels. Our customers include: the Royal Thai Navy, Marine Department, Marine Police, Port Authority of Thailand, Myanmar, Hong Kong, Netherlands, Qatar, Germany and etc.

Today, Italthai Marine's 112,000-square metre facility, located at the mouth of the Chao Phraya River, in Taiban, Samutprakarn province, features a 350 metres x 31 metres building berth no.1 and 300 metres x 40 metres building berth no.2, one 50+50 tons, three 25+25 tons and one 16 tons capacity gantry cranes, one 100 metres x 22 metres basin and one floating docks with a capacity of 3,500 tons lift – enabling the company to build and repair vessels up to 5,000 gross tonnages.

Excellent Support Services
To provide utmost satisfaction for its customers, Italthai Marine has gone one step further by offering a full range of support services. The company provides training in all aspects of ship operation organized selectively at any level from basic seamanship to specialized engineering instruction. Moreover, familiarization training is also arranged to the entire ship's crew at the time of completion of the vessel.

After the vessel has been completed and delivered, the company always maintains close liaison with the customers. The Support Service Section is ready to resolve any problems arising, including replacement parts throughout the life of the vessel and the provision of specialized technical services and advice.

Italthai Marine: The Shipbuilder of Choice
Since Italthai Marine was founded in 1978, the company has delivered more than 163 premium-quality vessels to fleets in Thailand and Southeast Asia. Because of its ability to build a wide variety of modern and sophisticated ships at very competitive prices, the company has proved itself to be a shipbuilder of choice for many large customers in both Thailand and abroad.

In fact, Italthai Marine's long list of customers can be categorized into three groups:
• Government agencies and State Enterprises. Italthai Marine has been proud to win numerous contracts and bids from major clients in public sector, including: the Royal Thai Navy, Marine Police, Fisheries Department, Marine Department, Port Authority of Thailand, and Customs Department. Vessels built include: Landing Ships for Tanks, LCPL Warfare Crafts, Patrol Crafts, Gun Boats, Survey Boats, Tug Boats, Hopper Dredgers, and much more.
• Local Private Sector. Trusted by many large firms across the country, Italthai Marine has built various kinds of commercial and specialized vessels; for instance: Deep sea fishing vessels, Passenger, Ferries, Auxiliary Vessels, and Coastal Transport Vessels.
• International Clients. Italthai Marine's excellent reputation is not only well known throughout the country, but spreads abroad as well. In addition to the building of the Buoy Laying Vessels and Light Vessels for Myanmar Port Corp, Platform Supply vessels (PSVs) for the Netherlands, Qatar and Germany company. Italthai Marine has also built a wide range of ships for clients in the Middle East, South Asia, and Southeast Asia.